Corporate Social Responsibility: MJM and the 2013 Catlin End-to-End Event
About Cynthia Williams
Cynthia's experience includes corporate administration, incorporations and management experience within Bermuda. She has been employed by Quorum Limited since 1999.
Cynthia Williams's full profile on mjm.bm.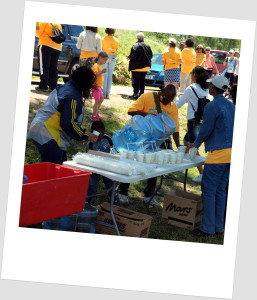 At MJM we take great pride in giving back to the community.
MJM attorneys and staff believe in social responsibility and we invest our time, skills and talents into community causes. Over the years, we have demonstrated our commitment to the community in which we live and work by taking a hands-on approach to community causes and charitable events.
We are particularly proud to support and participate in Bermuda's annual 'End-to-End' event, Bermuda's premier annual charitable pledge event committed to promoting the happiness and well-being of our Island community through all-inclusive activities.
The 2013 event took place on Saturday, May 4th. Employees of MJM and its affiliate companies, Quorum Limited and Fiduciary Partners Limited, along with friends and family, turned out to cheer on the more than 2,700 participants that made their way across the island that morning.
As well, we provided the last water-stop for participants before they entered Dockyard's finish line. MJM Limited is a Corporate Gold Sponsor of the Bermuda 'End-to-End' and in addition to the help provided by our staff on the day of the event, MJM and Quorum also provide legal and corporate administration services to the Bermuda End-to-End Charitable Trust throughout the year.
It is estimated that once the 2013 tally is complete, $250,000 will be made available to several Bermuda charities, including:
The Adult Education Center,
Coalition for the Protection of Children,
Family Center, Greenrock,
Saving Children And Revealing Secrets,
The Reading Clinic,
Westmeath,
Windreach and
the Women's Resource Center.
MJM employees and family members are proud to play an important role in the 'End-to-End'. It is a fun day for all and a great way to help contribute to the charities in Bermuda that do so much for the Island's people.
Learn more about MJM's commitment to the community.