Adenike Carmichael Joins MJM Limited
About MJM Limited
MJM is one of Bermuda's leading law firms. We have a broad ranging practice with an emphasis on civil and commercial litigation, banking and finance, general corporate, trusts, insolvency, restructuring, insurance and reinsurance. We also offer advice and services to international individual and commercial private clients.
MJM Limited's full profile on mjm.bm.
Leading law firm, MJM Limited, is pleased to announce that Bermudian, Adenike Carmichael has joined as Client Relationship Manager in the firm's Dispute Resolution Team.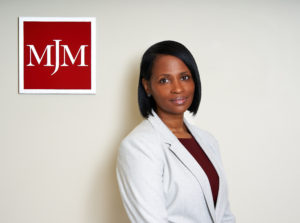 Ms Carmichael has extensive experience in the banking and regulatory sectors. Prior to joining MJM Limited, she worked as a Principal with the Bermuda Monetary Authority where she managed a team responsible for the licensing and ongoing monitoring of entities across Banking, Money Service, Trusts, Corporate Service Provider and Investment business. During her time at the BMA, Adenike also worked with both the AML/ATF team and the Enforcement team. Additionally, Adenike worked at HSBC Bank Bermuda Limited for ten years, where she managed a complex litigation and insolvency portfolio that included but was not limited to enforcement action both locally and internationally, court appointed receiverships and asset management.
Jennifer Haworth, Director in the Dispute Resolution Team, said, "We are very pleased to welcome Adenike to our team. At MJM, we provide our clients with a full range of service and the addition of Adenike to our Dispute Resolution Team only further enhances our offering. We look forward to continuing to grow our enforcement practice, particularly in the banking sphere, with Adenike on board."
Adenike said, "I am keen to seize this opportunity to be part of MJM Limited's Dispute Resolution Team. I look forward to utilizing my skill set, knowledge and experience to enhance the customer experience and reinforce the strength of the existing team."    
For more information view this announcement on Royal Gazette and Bernews.