Annual Wills & Estate Planning Legal Clinic
About MJM Limited
MJM is one of Bermuda's leading law firms. We have a broad ranging practice with an emphasis on civil and commercial litigation, banking and finance, general corporate, trusts, insolvency, restructuring, insurance and reinsurance. We also offer advice and services to international individual and commercial private clients.
MJM Limited's full profile on mjm.bm.
MJM Limited was pleased to once again work as a partner with Age Concern to provide the annual Wills & Estate Planning Legal Clinic to members of Age Concern. The event has been supported by the firm for over ten years and involves members of the MJM team giving of their time for the day to educate, advise and assist Age Concern members with a variety of matters, principally wills and estate planning, but also providing them with advice in relation to concerning property queries and general disputes. Attorneys from MJM provide individual advisory sessions in these areas to members at no cost.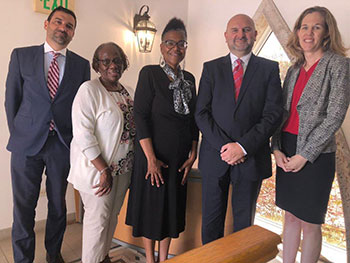 Hil de Frias, leader of Private Client team, is responsible for MJM's involvement in the Clinic and presented to the members on Wills and Estate planning. Hil said, "We are extremely pleased to partner with Age Concern once again to provide this event to its members. Our aim is provide Age Concern members with a better understanding of how to approach their own estate planning. We take pride in being part of this event as part of our commitment to give back to the community. It is especially important to give back to our seniors who have made important contributions of their own to our community over the years."
MJM would like to thank Anita, Claudette and their team for all of the hard work they put in to bring the event together and we look forward to continuing our partnership.